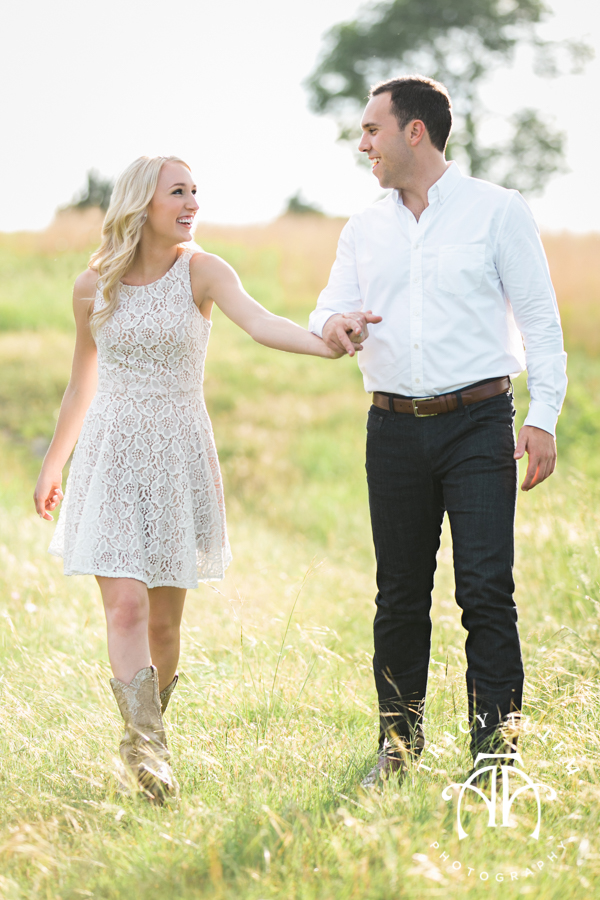 Brittany and Tommy are just adorable and we had a blast in almost Oklahoma for their engagement session at Willowood Ranch.  Brittany is a California girl and she loved that this Texas ranch had some soft rolling hills that reminded her of home.  It was hot but we had  blast exploring the ranch and doing a little off-roading in my SUV to get to some perfect spots!  I may have picked a few to many to share today but I don't care – I couldn't narrow it down any further!  These two met at TCU their freshmen year and next year in March they will be husband and wife.  Here is their proposal story:
"As my family lives in California, and his family is in Texas & Alabama we've always done Christmas apart to be with each of our families. This year was no different. Tommy dropped me off at the airport and I flew out to California a few days before Christmas. He was off to see his family for the holidays…or so I thought! The next day, while I was spending time with my sister last minute shopping for gifts, Tommy was taking an early flight out to California with an important carry on item. One airport fire, two hour security lines, and a missed layover later, he finally landed in Orange County where my brother in law secretly picked him up. Meanwhile my sister, my best friend and I met for lunch at a restaurant at the Montage Hotel overlooking Laguna Beach to catch up and enjoy the day off before the family functions began the following days. While we enjoyed some frose and lunch with a view catching up, Tommy and my brother in law were down on the beach setting up for the big surprise. After being told there was a free wine tasting for guests and patrons of the hotel down on the beach, we got up from our table and headed down towards the beach for free wine. As we approached the stairs to go down to the beach, I overlooked the cliff and saw a heart outlined in sand with dozens of rose petals and candles, and letters spelling out "Marry Me" and a man that looked just like Tommy. I looked back at my sister and best friend to ask in shock if that was Tommy, sure enough they were filming me on their phones and confirmed it was him and to 'go get him!" Tommy brought me to the middle of the heart in the sand, got down on one knee and asked me to marry him! The celebrations commenced with joy on a little blanket in the sand with champagne and the waves crashing into the sunset. A limo then picked us up and took us to dinner over Dana Point Harbor. I was truly surprised and beyond excited to spend forever together! He did SO well!"
Tommy is a great guy and I can not wait to hang out with them again!
-Tracy