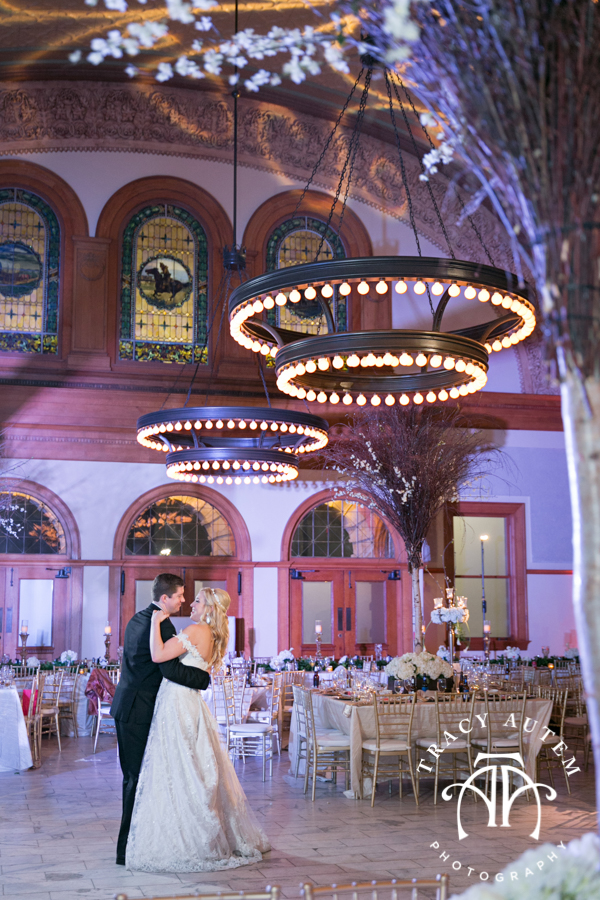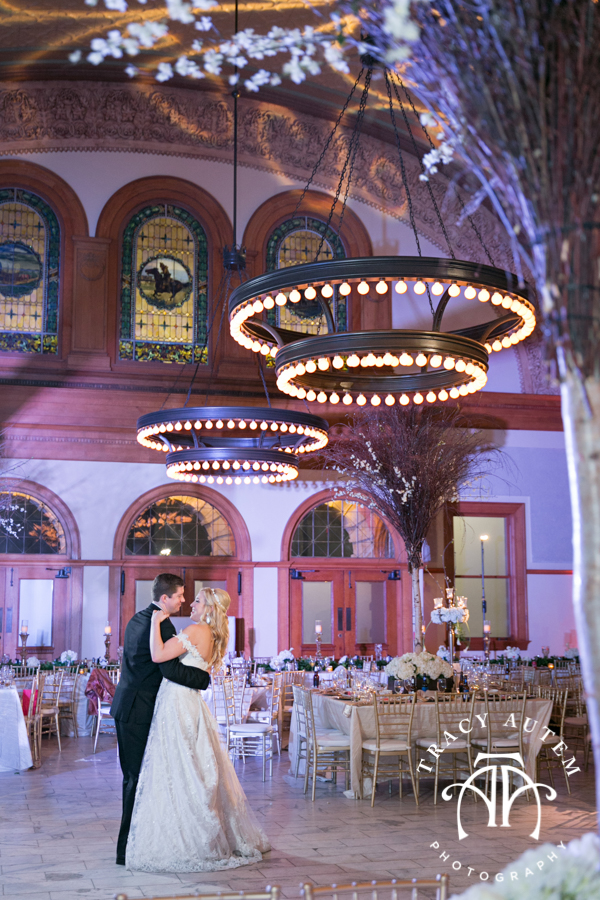 When you put a gorgeous couple at the Ashton Depot you really can't go wrong and this night was amazing.  The team with Out of the Garden filled the space with beautiful tall centerpieces that had so much texture and interesting shapes.  The room was color washed and the ceiling had a patterned gobo to really make the depot look full and vibrant!  As the guests arrived they enjoyed cocktails on the tented patio with passed appetizers  and lounge furniture.
As the band announced the bridal party the anticipation built and when the Mr. & Mrs. where finally called into the room everyone stood and applauded as they took to the dance floor for their first dance.  Abbey and Andrew could not have been smiling bigger as they held each other close and Andrew spinned and dipped his new wife!  We jumped right into dances with Mom and Dad before settling into a fabulous dinner by The Ashton Depot.  During toasts everyone laughed at the silly stories and sweet words of their bridal party and Abbey's Dad.  I love watching the parents during toasts and I captured Abbey's parents being oh so sweet to one another.  🙂
Then it was PARTY time!  Drinks in the air, jumping and dancing and cutting up on the dance floor!  The Downtown Fever Band led everyone on night that was jam packed with fun.  I am sure many feet were aching when it was time to depart.  As guests lit sparklers Abbey & Andrew enjoyed a private last dance.  One last moment in their wedding reception before dashing off to their vintage limo.
I am lucky to have such gorgeous and kind clients and even more so that they select such great vendors to work along side:
Events by Bill – Bill Robertson
Out of the Garden – Floral
Bridal Boutique – Brides Gown
Mens Warehouse
Show Me Your Mumu – Bridesmaids Attire
Creme De La Creme Cake Company
Downtown Fever Band
P.S. The Letter – Paper Products
My Vintage Limo
Theophany Studio – Video
Rhythm Salon
Renata Salons
Red Photo Booths